16 HOURS OF TRAVEL  FOR THE KARAMOJA PROVINCE TEAM(LEOPARDS) FROM MOROTO TO ARUA, WILL THEY BE AFFECTED BY TIME SPENT IN TRANSIT?
By Edward Akaaki & Goodluck Musinguzi & Richard Drasimaku  it certainly won't be a level playing field in terms of time spent in transit
26 Soccer players arrived in Arua City at 5 am on Thursday after enduring16 hours on the road from Moroto Municipality on a journey that started on Wednesday at 2 pm. At 4:30 pm the Moroto High School Coach entered the Teso region which is the Katakwi district and later at 5:10 pm the team was welcomed to Soroti City with a heavy downpour.
The team later started its journey to the Lango region where they passed through Dokolo and Lira districts reaching at 7 pm. Around 9:20 pm the soccer team had reached Kamdini where they stopped to have dinner at Eldoret hotel before proceeding with their journey.
At Kamdini they had travelled for 8 hours which is a half journey and the teams spirit was high according to officials on board.
At 2 pm the Moroto High School bus was tracked at Pakwach town and later reached Arua City at 5:06 before checking at Hiltop Hotel.
A statement from West Nile Province team was posted on their social media confirming the Karamoja Province Team had arrived in Arua City.
"Karamoja Province Team safely reached Arua City, West Nile Region aboard Moroto High School bus this morning around 5 am Thursday (4th August 2022) and the team is putting up at Hilltop hotel- Arua. West Nile Province is more than humbled and delighted to receive our historical FUFA DRUM opponents since the first edition", part of the statement.
We, therefore, would like to take the chance to invite you all to come and witness the best football display on Friday (5th August 2022) at 4 pm at the historical Ababet Greenlight stadium Arua home of famous Onduparaka Fc celebrating our ancestry. The statement ended by calling soccer fans to support their home team.
KARAMOJA PROVINCE SOCCER TEAM FINALLY SETS OFF TO ARUA, THEY ARE EXPECTED TO COVER 600 KMS IN 10 HOURS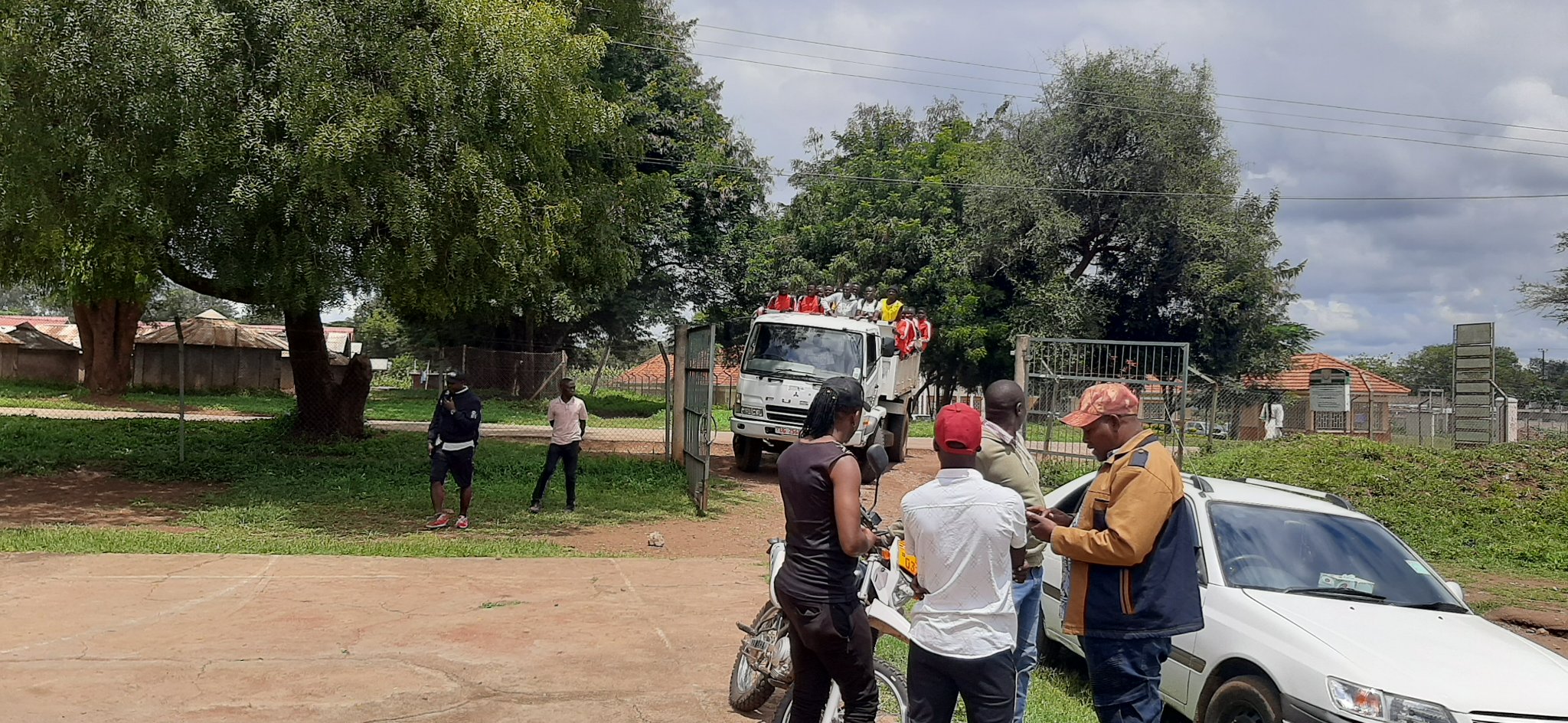 KARAMOJA PROVINCE SOCCER TEAM FINALLY SETS OFF TO ARUA, THEY ARE EXPECTED TO COVER 600 KMS IN 10 HOURS
By Edward Akaaki
For the love of soccer, nothing could stop the Karamoja Province Team from enduring difficult conditions that started two weeks ago until when they were set off to Arua City this evening with a half budget. Mentioning financial difficulties would be another name for the team but have defied conditions that would have discouraged them to participate in the FUFA Drum tournament.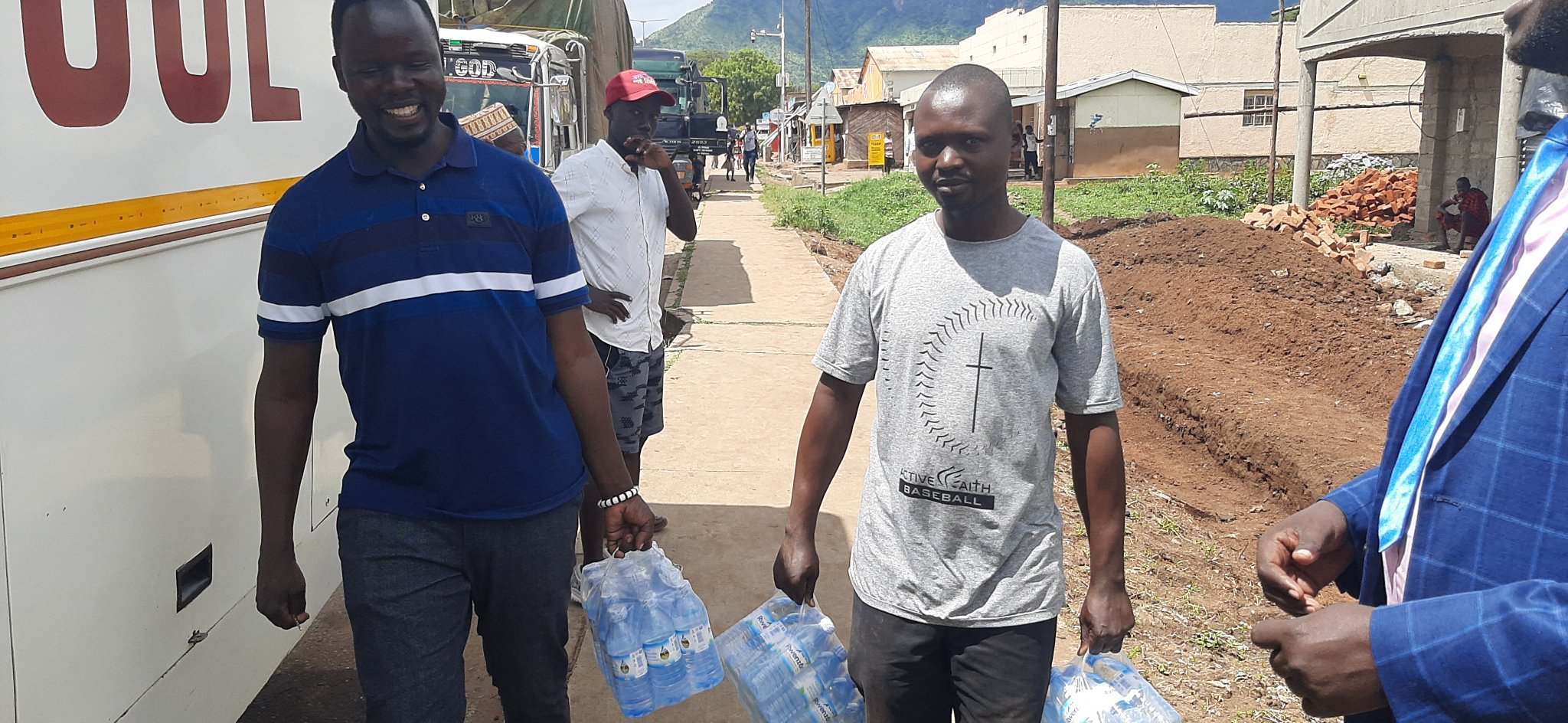 As they say, to dare is to do, and it only takes a strong person to take a leap of faith, Karamoja
Province team sets off on an incomplete budget this afternoon with the hope that the people will come to
their rescue as they traverse the country to the West Nile Region.
Speaking to our reporter as the players boarded on the school bus number plate UBC 623D at Boma grounds
Moroto, the Media Officer Jones Opong declared that overnight their financial stand improved as some
local councillors added a drop of water to their desert.
"We received some contributions from the local councillors and some people who cleared their pledges
and we received in excess of 500000/= overnight which motivated the team to dare believe more is
coming", said Opong
On a journey of approximately 600 kilometres that could last up to 10 hours of constant travel by bus, one
would say the Karamoja team is very motivated to win under whatever condition.
During the flag-off of the team, a number of political figures encouraged the team in their remarks.
Moroto Municipality Mayor, Ismail Mohammed challenged the Ministry of Karamoja Affairs for not
considering budgeting for the games and sports in the region yet it's a uniting factor in a hunger and
raids torn region.
He also appealed to his fellow political leaders and civil servants to make sure the team does not get
stack in Arua by contributing so that they can be motivated and uplift the region to the map
through sports.
"Go and tell them, we might be struggling but we are okay" the Resident District Commissioner Moroto District, George Wopuwa said while flagging off the team in a bid to strengthen the emotions of the players.
He also promised the province players better support in the next matches that the team will play through
gathering support from his colleagues in the region, Members of Parliament and also from the Ministry
of Karamoja Affairs.
Karamoja Province will face off with West Nile Province in the fufa drum knockout round of 16 first leg
game at Greenlight stadium Arua.
UPDF CONTRIBUTES 100 LITERS OF FUEL,  KARAMOJA PROVINCE TEAM SHORT OF SHS3.2 M FOR THE ARUA TRIP
BY EDWARD AKAAKI
MOROTO: TUESDAY, AUGUST 2, 2022
An anticipated mouth-watering encounter of soccer between the Karamoja Province and West Nile province this Friday hangs in balance as only 100 litres of fuel provided by UPDF's 3rd Division is available for the Karamoja Province Team to travel.
The team desperately needs sh3,250,000 for buying additional 500 litres of fuel for the trip to Arua City on Wednesday ahead of the FUFA drum competitions.
Moroto High School has contributed in kind by slashing sh1,000,000 off from the sh5,000,000 it demanded for the hire of its bus for the long journey.
Jones Opong, the Media Officer for the Karamoja Province Team, said they have been struggling in their fundraising drive starting with their political leaders, the business community and other members of the public.
Only Hon Moses Aleper, the Member of Parliament for Chekwi County, has given a cash contribution of sh500,000 that was used to feed the players during the one week residential training camp.
The team which is set to be flagged off from Moroto Boma grounds has had so far a rough ride during training due to shortage of finances.
As the country gets back to celebrating her ancestry through the FUFA drum games, Karamoja province is supposed to take a long drive across the northern region to the city of Arua to face up to the West Nile province in their first round of 16 knockout matches.
Reports from Arua indicate that the technical staff for the West Nile Province team has already assembled a strong contigent of 26-man squad to face the Karamoja Province Team.
However the Karamoja Province team management is still looking for clues of how to raise the requisite funds for the trip, player accomodation, feeding and motivational allowances.
From the travel expenses seen by our reporter, the Karamoja province had planned for the bus hire for a total of 5 days at sh5 million , 600 litres of fuel for the journey to Arua and back to Moroto among others.
Previously, the area MPs, local government politicians, and civil servants in their different ranks, the business community and the public  used to generousely mobilise funds to support the Karamoja Province team.
Opong said so far support has only come from Hon Aleper and another welwisher, Charles Omudu, who gave sh500,000 to cater for the sh15,000 per player allowance and sh100,000 allowance for the four team coaches.
Moroto Municipality Mayor, Muhammed Ismail, has pledged sh1.5 million but the pledge will not be fulfilled immediately.
"Our fate right now is in the hands of our leaders and the people in the region because we fear to carry the team with fewer funds and no assurance of providing food or returning home, though we are sure to go for a win," Opong said.